Sorry, this model is no longer available!
SunDanzer Small, Efficient
DC Refrigerator/Freezer
*******
Energy Efficient SunDanzer Upright Combination Refrigerator and Freezer Model DCRF134 (4.7 cu. ft.)
Save on costs with this SunDanzer DC Refrigerator/Freezer Combination unit. The single-door upright DCRF134 model is perfect for situations where a chest style is just not practical. Even with its small footprint, it still has a food storage capacity of 4.7 cubic feet. The built-in freezer compartment is perfect for making ice and storing small frozen items.
Low energy consumption makes SunDanzer refrigerators and freezers the most cost-effective for use with power from solar, wind, fuel cells, or batteries. This technology allows refrigeration in remote locations where it was previously unavailable or prohibitively expensive.

High quality construction provides excellent reliability and a long life. The powder-coated galvanized steel exterior is easy to clean. The zero-maintenance, brushless, thermostatically controlled DC compressor operates on 12 or 24 VDC.

With the added insulation and a refrigeration system optimized for off-grid applications, this new additions to the SunDanzer family of energy-efficient refrigeration appliances will provide the same outstanding economical and reliable operation as its popular chest style units.
***************
SunDanzer DCRF134 Refrigerator/Freezer Combination Unit

Features:
Reversible door and handle
Dairy compartment and vegetable crisper
Adjustable legs for leveling
Scratch-resistant top doubles as work surface
Two adjustable safety glass shelves
Internal control thermostat & temperature gauge
12 or 24 VDC, or 120 VAC with 12/24 VDC backup
Environmentally friendly CFC-free refrigerant
One year manufacturer's warranty
Applications: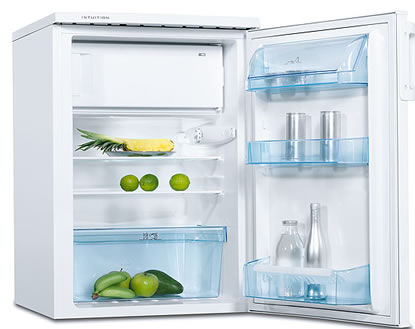 • Remote homes
• Eco-Resort
• Remote Stores
• Disaster Preparedness
• Beverage Vending
• Churches & Schools
• Village
• Micro-enterprises
• Cabins
• Medical Clinics
• Markets
• Farms
• Boats and Marine
• Traveling Vendors
• Missionaries

Specifications:
Voltage: 10-31 VDC
Array Size: 300 Watts
Average Energy Use at 12VDC:
70 F – 460Whrs/day, 38 AH/day
90 F – 720 Whrs/day, 60 AH/day
110 F – 1050 Whrs/day, 88 AH/day
Gross Capacity: 134 L / 4.7 cu. ft.
Refrigerator: 115 L / 4 cu. ft.
Freezer: 19 L / .7 cu. ft.
Exterior Dimensions (WxDxH) 23.5 x 26 x 33 in
Shipping Dimensions (WxDxH) 26 x 28 x 40 in
Weight: 75 lbs including packaging, ships via LTL truck

Price: $1149 plus freight.

NOTE: AC conversion is available on the DCRF134 model, done at the factory, allowing operation off AC power; you can still operate it as needed off DC, but once the conversion is done, its primary power source will be AC. Conversion cost is $225.
NOTE: Appliances are not stocked locally and ship from our supplier in the Southwest.
Also check out other renewable energy products at www.oasismontana.com as well as these related sites.
**********
Go To Our
Quick Link Site Map